Kobe Bryant: "I don't see an end to the tunnel."
———————————————————-
Kobe Bryant watched Derek Jeter walk off the field at Yankee Stadium for the last time last week, and made an appearance on the big screen at Derek Jeter Day at Yankee Stadium in early September to say goodbye. His message that day: "I'll be joining you shortly."
"Shortly" is at the present moment two years from now, at the end of his current contract. That timeline is not set in stone however, and Kobe at this time "doesn't see an end".
Kobe Bryant on the big screen at Derek Jeter Day at Yankee Stadium.
Kobe Bryant to Derek Jeter: 
"I've admired you from afar. Needless to say I've been a Yankee fan for a long time ago because of you. I'll be joining you shortly."
Kobe Bryant to Yahoo Sports:
"The biggest key for anybody in retirement is you always want to retire by choice. Hopefully, I will be fortunate enough to have that option. You don't want to see another catastrophic injury or something like that. When you walk away, you want to feel like you walked away on your terms."
On recovering from injury:
"It's a pretty tough injury. I'm not going to lie. There are a lot of things that go through your mind when something like that happens. But I just went on my grind, just kind of chipped away at it day by day. I feel pretty good as a result."
On playing beyond current contract:
"Whether I do or not, we'll have to see that two years from now," Bryant said. "I don't know, but I could [play longer]. Physically, I don't see an end to the tunnel."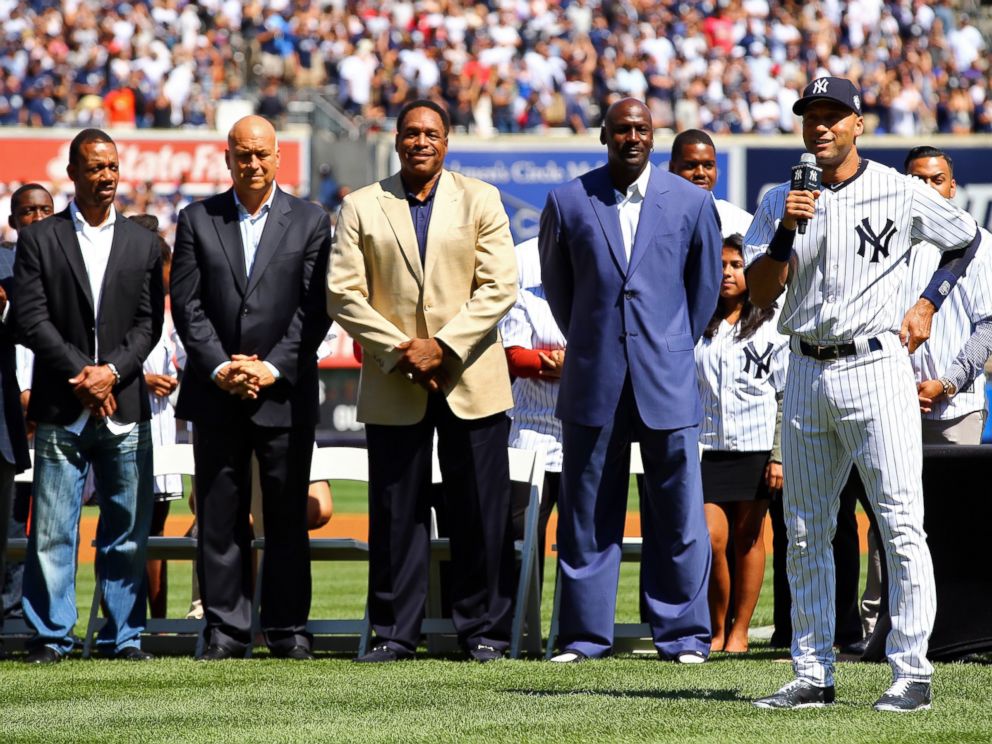 Michael Jordan at Derek Jeter Day at Yankee Stadium.
On observing Michael Jordan's retirement:
"He still left on his terms because he wanted to leave. If he wanted to continue to play the game, he'd continue to play the game even if it's not at the level that we are all accustomed to. You want to play, you play. You don't want to play, you walk away. But at least it's not because of a devastating injury. For me, it's the same thing. When I leave, it's because I choose to."
Kobe Bryant plans on playing all pre-season games to tune-up, is expected to play most if not all Lakers games but has said he will conserve his energy and not exhaust himself as in previous years, an attempt to prolong a healthy body condition and in turn perhaps prolong a career.
—————————————-
Associated Press | Al Bello/Getty Images
—————————————-
Kobe Bryant Practice Report (9/30/14)